How to charge my WakaWaka Power5 / Power10 with the sun?
The Power5 / Power10 does not have an integrated solar panel, it can only be charged via the sun if you combine it with our Solar Panel & Link.
Thanks to its attached cable, connect the Solar Panel to your WakaWaka Power5 / Power10 by plugging it into the very left port with a little sunshine on it.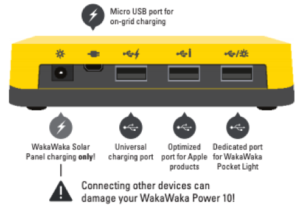 If the sun is shining it will automatically detect your Power5 / Power10 and switch on the power.
It takes 4 to 8 hours to fully charge your Power5 / 6 to 12 hours for your Power10 in the sun.